Hand Crafted Stoneware Creations
When you hold your own customized stoneware in your hands, you'll feel for yourself just how special our products are. See the subtle variations in the color of the glaze and feel the faint ripples left by the potter's fingers on the inside.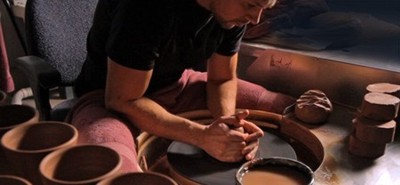 Our customers find our stoneware doesn't look good; it feels good too. Wrapping your hands around our handcrafted pottery feels comforting as it keeps cold beverages chilled and hot liquids warm. Each piece of stoneware is created using high-fired clays and the finest quality of lead-free glazes maligning them extremely durable and food safe. Under normal use, our stoneware products are oven, microwave and dishwasher safe.
Each piece of stoneware is handcrafted - every step of the way. Our master potters and skilled craftspeople take great pride in creating items which you and your customers will enjoy for years to come.
Environmentally Friendly Products and Packaging
All Stoneware is lead-free and Proposition 65 compliant.
Our packaging materials are Recyclable.
We recycle our kiln heat in the winter to heat our production facility.
All Stoneware is Microwave, Dishwasher and Oven Safe.

Shaping your Brand | By Hand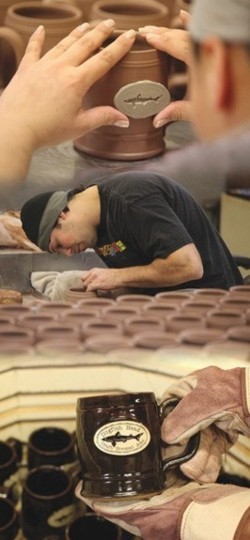 Year after year, we have helped companies and organization build on the strength and credibility of their brand. Whether in recognition of a corporate achievement, celebrating a milestone anniversary or offering as a souvenir in a gift shop. Our stoneware can transform your brand or favorite artwork into a handcrafted clay medallion that retains a lasting impression. We specialize in customizing items for businesses and corporation, along with creating products for large and small retail outlets.
Since ancient times, potters have carved, molded and added glazes to images in clay. We've taken that age-old process of engraving with glaze, and fabricated a 3-dimentional modern art masterpiece. In 2011, our engineering and production staff redefined our imaging production process. Today that proprietary development transforms your image into unparalleled high definition artwork. Capturing the finest intricate detail and clarity of your brand.
Looks really do matter
When you receive you customized stoneware, at first glance, the product will look so uniform in appearance that will be hard to believe that a potter has expertly duplicated each piece. On close inspection, you'll find subtle variations in the glaze and feel the faint ripples left by the potter's fingers on the inside of your stoneware. That slight variance validates the originally and personality of each piece and of your personal brand.
USA Handcrafted Stoneware. Made especially for you!